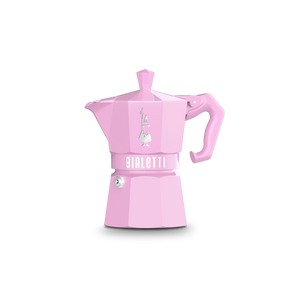 Enjoy the vibrant and eye-catching hues of the Bialetti Moka Exclusive Pink!
This stunning special edition celebrates the iconic coffee-making tradition of Bialetti and makes a great addition to any espresso set-up. You'll love its sleek design and reliable performance!
Here, you are offered a curated selection of products that exude vintage charm and refined sophistication. Drawing inspiration from the unique characteristics that made the Moka Express and Bialetti coffee makers iconic, this range emanates elegance and allure.
Available in 3 cup (130ml) or 6 cup (270ml)