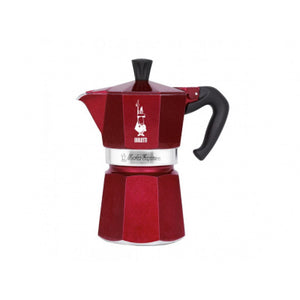 Welcome to coffee-lovers paradise with the Bialetti Moka Deco Glamour!
Bialetti's Moka Express Deco Glamour is the perfect addition to any kitchen. Crafted from polished aluminum and painted in a vibrant red color, it easily complements any decor. This iconic stovetop espresso coffee maker produces rich, full-bodied espresso in just 4-5 minutes.
This red marvel boasts the perfect combination of style and performance.
Make your coffee break chic with the sleek design and superior Italian-made quality, guaranteed!
Time to fire up the espresso-maker and get ready to be blown away.
The Bialetti Moka Express Deco Glamour  comes in 3 cup (130ml) or 6 cup (270ml)
Since 1933, the undisputed symbol of Made in Italy all over the world.