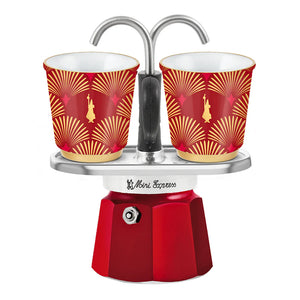 Brew up delicious Italian-style espresso with the glamorous Bialetti Mini Express Deco Glamour! This unique espresso maker features an exclusive, eye-catching design – an elegant addition to any kitchen.
So get ready to glam up your espresso routine!
A variation on the classic Moka Express, the Bialetti Mini Express Italia coffee maker has a unique spout that delivers coffee directly into your espresso cup. 
A quick and easy way to enjoy an espresso at home this Bialetti Mini Express Deco Glamour comes with two matching Bialetti espresso cups.